Do you have an event or special occasion coming up and want to look like a boss? Or maybe there's a VIP visiting who's already accustomed to driving around in style?
If you want to really turn up the heat in your special event and make a big impression on the people in your life, then renting a luxury car in Trinidad will surely bring an extra touch of class and sophistication.
The appeal of driving luxury vehicles is unmatched and you and your people deserve to be spoilt sometimes.
A Trinidad luxury car rental can help you feel like a celebrity when you're on the road and let you experience driving a really nice car without the cost of ownership.
Why Choose Us?
Our company is an industry leader in luxury car rentals in Trinidad, providing premium vehicles for special occasions and VIPs for years. We believe that enjoyable journeys begin with quality cars.
Ours is an on-demand luxury vehicle service that lets you rent a luxurious car to chauffeur you around for weddings, proms and other special events.
We provide quality rental vehicle services for individuals and organisations who choose luxurious car rental. Our fleet offers stylish sedans, reliable SUVs and luxury cars for rent in Trinidad.
We provide a service that lets you hire a luxury car in Trinidad very quickly. No more wasting your time waiting at a rental desk and no need to search for the cheapest deals online.
Drive in style with a company that provides top-notch service!
What luxury vehicles do you have for rent?
Our prime luxury car for rent in Trinidad is a Black Audi Q3 Sports Utility Vehicle.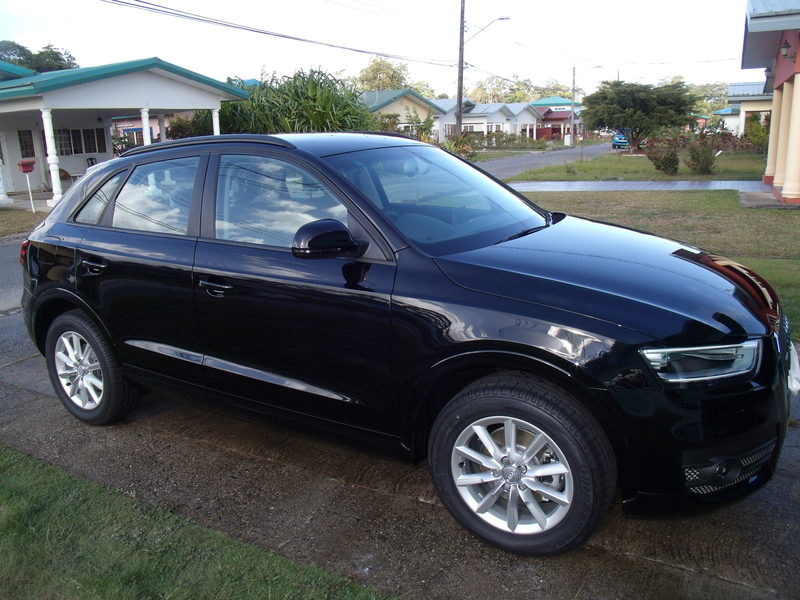 This stylish beauty is ideal as a Trinidad wedding car rental, for driving to the business meeting in the city, adventures on the open road with that special someone, or picking up the VIP at the airport.
Our vehicles are kept and delivered in an immaculate condition and this one is no different. No effort or cost is spared to enable you to feel like you experience true luxury in our high-end vehicles.
How to rent a luxury car in Trinidad?
You want to rent a luxury car for your special occasion or VIP visit, but you don't know where to start.
Imagine renting a luxury car in Trinidad with just a few clicks.
Our Trinidad luxury car rental company specializes in providing the best rental experience for visitors and locals alike. We provide the highest quality vehicles, and we offer 24/7 customer service and support.
Complete the brief form below to get a call back and quote.
Once you submit your information, we will notify you whether the vehicle is available or not, and provide you with a quote if necessary.
How much does a Trinidad luxury car rental cost?
Our typical rates to rent a luxury car in Trinidad are TT$1,000 per hour for a minimum of three hours.
Rates are available on an hourly, daily, weekly or monthly basis.
Frequently Asked Questions about Renting a Luxury Car in Trinidad
What payment methods do you accept?
What are the terms and conditions for renting the vehicle?
Do you provide a driver for the luxury vehicle?
Get a Quote on a Trinidad Luxury Car Rental