Venue in Duncan Village, Trinidad & Tobago
Located in South Trinidad, be ready to be amazed by the spectacular Achievor's Banquet Hall. We have left no stone unturned to give you the best that there is to offer, to give you memories to last a lifetime, and leave an impression they will forever speak etched in your minds.
Achievor's Banquet Hall is a fully air-conditioned facility on our 14,000 square feet compound. It's perfect for wedding receptions, Dinners, Graduations, Birthday and retirement parties or any other event you may want to host.
The exquisite and lavish hall with a curved film gypsum ceiling with transitional lighting , seats up to 600 persons, appropriately designed with a 20×20 square feet stage. and a 2400 square feet patio, smoking deck and side terrace balcony.
All amenities are provided- restrooms, parking etc. Vehicles are monitored by our in-house security.
Whatever the occasion, Achievors Banquet hall is the place you want to be.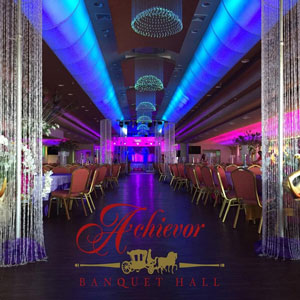 Venue Type:
Auditorium, Hall
Rooms, Floor Space & Capacity:

Seats up to 600 persons.
Equipment Available:

Lighting
Tables & Chairs

On-Site Parking Available:
Yes