Ahh-Venue Events Ltd – "A Place with Space"
Venue in St. James, Trinidad & Tobago
Located in St. James on the outskirts of Port-of-Spain, Ahh-Venue is an indoor and outdoor space with a 360 degree view of the city.
It consists of a rooftop patio, multiple rooms and has parking available. Ahh-Venue can hold events such as weddings, meetings, conferences, banquets and parties of up to 200 persons.
Click the "Contact This Vendor" button on this page to enquire about rates, availability and to set up a site visit, or call us at the number listed here.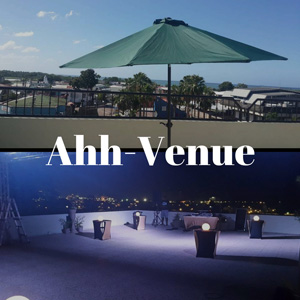 Venue Type:
Hall, Open Space
Rooms, Floor Space & Capacity:

200 persons