Venue in San Fernando, Trinidad & Tobago
Imani Hall in San Fernando is elegant, classy and very affordable.
Please call the listed number or click the "Contact This Vendor" button to contact us directly for availability, pricing and to arrange a site visit.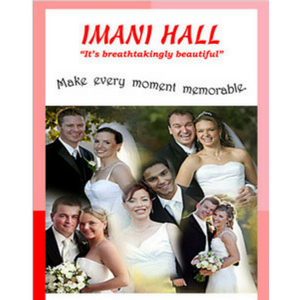 Venue Type:
Auditorium, Hall, Open Space, Meeting Room
Rooms, Floor Space & Capacity:

Auditorium 6000 sf - 450 persons
On-Site Restaurant:
No
On-Site Catering:
No
Outside Catering Allowed:
Yes
Wifi Available:
No
Wheelchair Accessible:
Yes
On-Site Security:
Yes
Equipment Available:

Lectern
Projector

On-Site Parking Available:
Yes


Parking Details:

Basement parking.