Venue in Maraval, Trinidad & Tobago
The North Deck is available for corporate and private functions including retreats, weddings, cocktail parties, and general rentals, for a maximum capacity of three hundred and fifty (350) attendees within 7500 sq. ft. (upper and lower levels combined) of entertainment area.
When you walk through the entrance you are greeted by a 5000 sq. ft. open deck area with a covered gazebo and stunning north coast views. On the same level are washroom areas for both male and female, each with one regular and one wheel chair accessible facility.
On the lower level you'll find 2500 sq. ft. of covered area, 24 four-seater tables, and our on-site kitchen equipped with professional amenities including stainless steel surfaces. The lower level is also accessible to wheel chairs.
We offer a full range of services to assist in managing your special event. A basic catering menu consisting of an exciting mix of local cuisine which can also be tailor made to meet any request.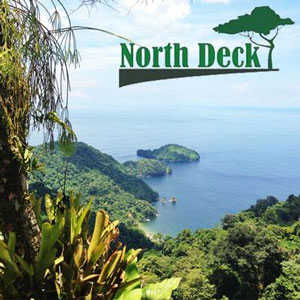 Venue Type:
Open Space, Meeting Room
Rooms, Floor Space & Capacity:

Upper Level - 5,000 sq ft Open Air - 350 persons
Lower Level - 2,500 sq ft Covered
On-Site Restaurant:
No
On-Site Catering:
Yes
Wheelchair Accessible:
Yes
Equipment Available:

Tables & Chairs