Venue in Couva, Trinidad & Tobago
The Couva Point Lisas Chamber of Commerce Conference Hall is located at Camden Road, Couva.
The seating capacity is 500 guests dinner-style & 1,000 theatre-style.
There are two bar and kitchen areas & change rooms. The Ideal location for Wedding Receptions, Functions, Award Ceremonies, Graduations, Dinners, etc.
Click the "Contact This Vendor" button on this page to enquire about cost, availability and to arrange a site visit. You may also call us at 636-5017 or 223-6670.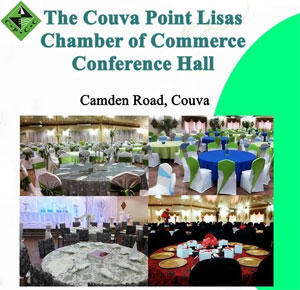 Venue Type:
Auditorium, Hall, Open Space, Meeting Room
Rooms, Floor Space & Capacity:

500 dinner style, 1000 theatre style
On-Site Restaurant:
No
On-Site Catering:
No
Outside Catering Allowed:
Yes
Equipment Available:

Tables & Chairs

On-Site Parking Available:
Yes