San Salvador Estate Entertainment and Conference Centre
Venue in Gran Couva, Trinidad & Tobago
Set in the natural forest hills at the peak of Trinidad's Central Range in Gran Couva, lies the San Salvador Conference and Entertainment Centre.
Built of natural hardwoods, the Centre offers modern conferencing facilities in a scenic, peaceful setting. The centre is ideal for corporate retreats, team builders, family days, offering a range of activities from lawn tennis, table tennis, snooker, riding on the All Terrain vehicles and exploring the nature trails, tours. There is also ample space for playing cricket, football and set up of games, rides, bouncy castles, mini golf.
It is also ideal for garden and indoor weddings, set under the canopy of the trees, enveloped in nature. Enjoy the rustic beauty of the wooden Centre.
The Centre forms part of the centuries old, two hundred acre estate, rich in immortelles, cedars and other tropical forest species.
Call us or click the "Contact This Vendor" button to ask about rates, availability and to book a viewing.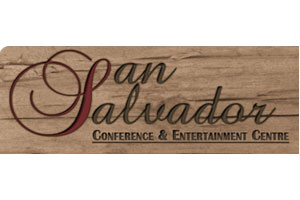 Venue Type:
Hall, Open Space, Meeting Room
Rooms, Floor Space & Capacity:

The Entertainment Centre holds up to 150 persons. Wooden, greenheart building with a fully equipped kitchen, large counterspace, a microwave, stove, refrigerator. It also holds a projector screen 10 x 12 feet, projector and wifi. There are tables and chairs for 50 persons, 8 cocktail tables and a podium. There is also access to the garden area which holds up to 150 persons. There is a lawn tennis court. The Conference Room is air conditioned and is a board room style setting that seats up to 16 persons around the board room table. There is a projector, projector screen and wifi. There is also a mini kitchen with a refrigerator, microwave and kettle. There is one unisex washroom.
On-Site Restaurant:
No
On-Site Catering:
No
Outside Catering Allowed:
Yes
Wifi Available:
Yes
Wheelchair Accessible:
No
On-Site Security:
No
Equipment Available:

Projector
Tables & Chairs

On-Site Parking Available:
Yes


Parking Details:

On the lawn and on the private road next to the buildings.